Every Business has unique needs, however in order to see success, we recognize that you need more than a simple Customer Relationship Management (CRM) and Marketing application.

That's exactly why SMBs trust Salesforce.com to address their business needs. Read on to find out why Salesforce.com is the perfect CRM for your business and how SMBs have seen success with Salesforce.com
Why Salesforce.com is the perfect CRM solution for your business?
| | |
| --- | --- |
| | |
| | Lead Tracking & Management: Never drop a lead and nurture leads until they are sales- ready, automatically route those leads to the right reps at the right time. |
| | |
| | Automation Tool & Productivity: Automate complex business process to drive even more productive time |
| | |
| | Dashboard & Reporting: Make insightful business decisions using up-to-date information dash-boards and reporting |
| | |
| | Plan to fit every need and budget: Choose from a range of plans and features that best suit your business requirements and budget. |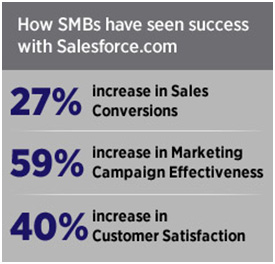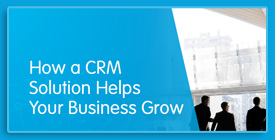 Download the e-book "How a CRM helps your business grow" to start growing and expanding.