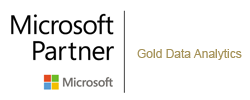 Microsoft Solutions - To help you digitally transform your business
Align your data and assets with the right Microsoft Technologies.
Make informed, confident business decisions by putting data-driven insights into everyone's hands. Analyse data, build applications, automate processes and give everyone the ability to accelerate business transformation through cutting edge solutions from Microsoft.
Microsoft's Power Platform empowers business users to derive more value from their data using low-code or no-code technologies.
Microsoft Power Platform has four components:
Power BI helps to discover insights hidden in your data and enables everyone at every level of your organization to make confident decisions using up-to-the-minute analytics. It lets you collaborate on reports with colleagues, then easily share the reports and insights when and how you want—in workspaces, on the web, in apps, or using Microsoft Teams.
This tool helps everyone to build custom apps to solve business challenges. It lets you build apps easily using pre-built templates, with drag-and-drop simplicity through pre-built AI components.
Power Automate empowers everyone to build automated processes. It allows you to use low-code, drag-and-drop tools and hundreds of prebuilt connectors that automate repetitive, mundane tasks with ease.
This tool helps to easily build chatbots to engage conversationally with customers and employees. It lets you quickly create sophisticated, AI-powered chatbots that can resolve common issues and answer questions around the clock.
Maximize the value out of your data and analytics by adopting Microsoft Azure BI & Data platform using Azure Data Factory, Azure Synapse Analytics, Azure Data Lake and Azure Databricks.
Microsoft Azure has built-in security, privacy and compliance and helps deploy and manage your existing solutions with no upfront cost, pay-as-you-go, flexible purchasing (the only minute-by-minute costing) and pricing options for all your cloud scenarios.