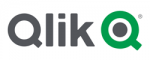 Qlik - A modern end to end data analytics platform
Drive action and accelerate business value through data with Qlik.
Transform your business through trusted, real-time data, collaborative analysis and actionable insights – using Qlik data analytics platform. Narrow the gaps between data, insights and action with Qlik's end-to-end solution for data integration and analytics.
The end-to-end data analytics platform
Data and analytics are the pivotal components of digital transformation initiatives. Enterprises today need a modern analytics platform that can guide and expedite their journey to become a fully data-driven organization through Active Intelligence.
Qlik provides an end-to-end, real-time data integration and analytics cloud platform to close the gaps between data, insights and action. With its one-of-a-kind associative analytics engine, sophisticated AI and high-performance cloud platform, it helps to create a truly data-driven enterprise.
We are a leading end to end solutions and implementation partner for Qlik in Asia and have successfully delivered data analytics projects across industries for global clients .We help organizations to derive maximum value from their Qlik investment and partner with them in their data analytics transformation journey.
Qlik Data Analytics Platform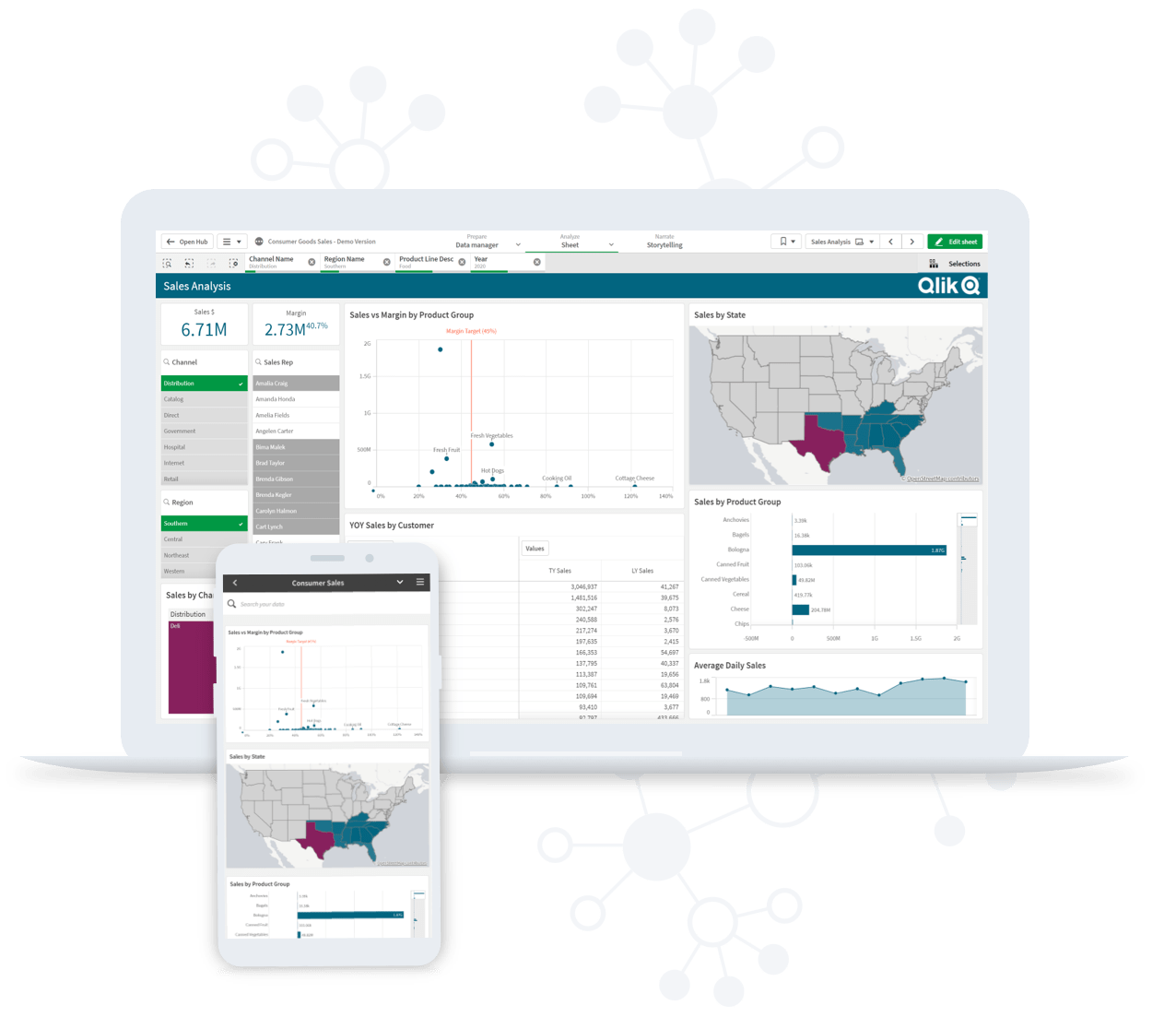 Associative Engine Analytics
Qlik's unique Associative Engine allows people to explore freely in any direction, recalculating analytics and highlighting data relationships after each click. It's like peripheral vision – revealing insights you can't see with SQL and query-based BI tools.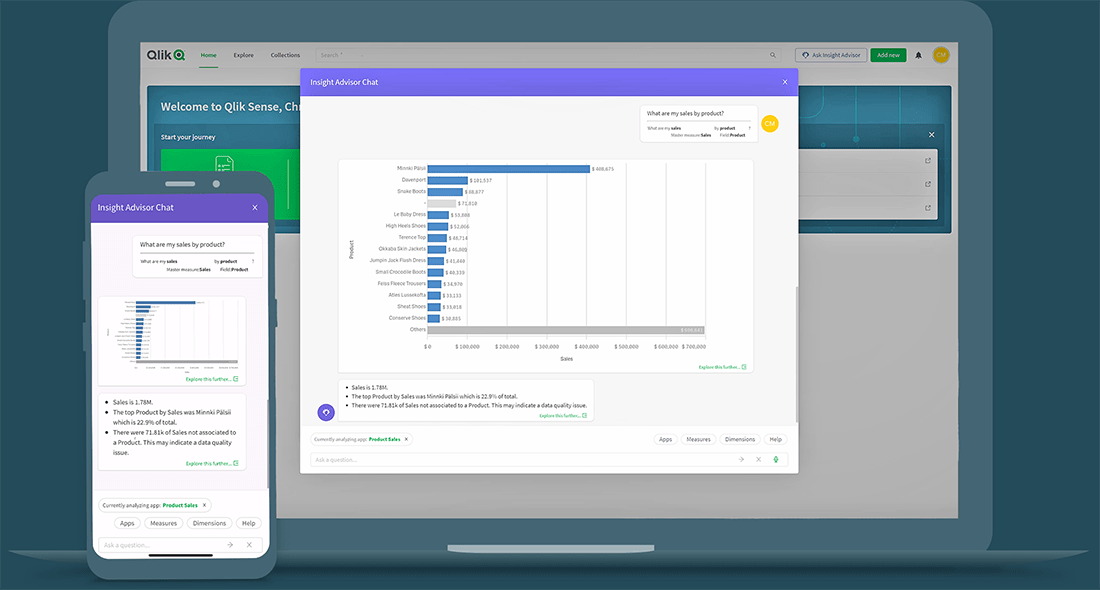 Search and Conversational Analytics
With search-based analysis, Insight Advisor, the AI assistant in Qlik Sense, auto-generates the most relevant and impactful visualizations and analyses for the user, based on natural language processing (NLP). Users can get a series of auto-generated and prioritized charts, which they can add to fully interactive dashboards for further exploration.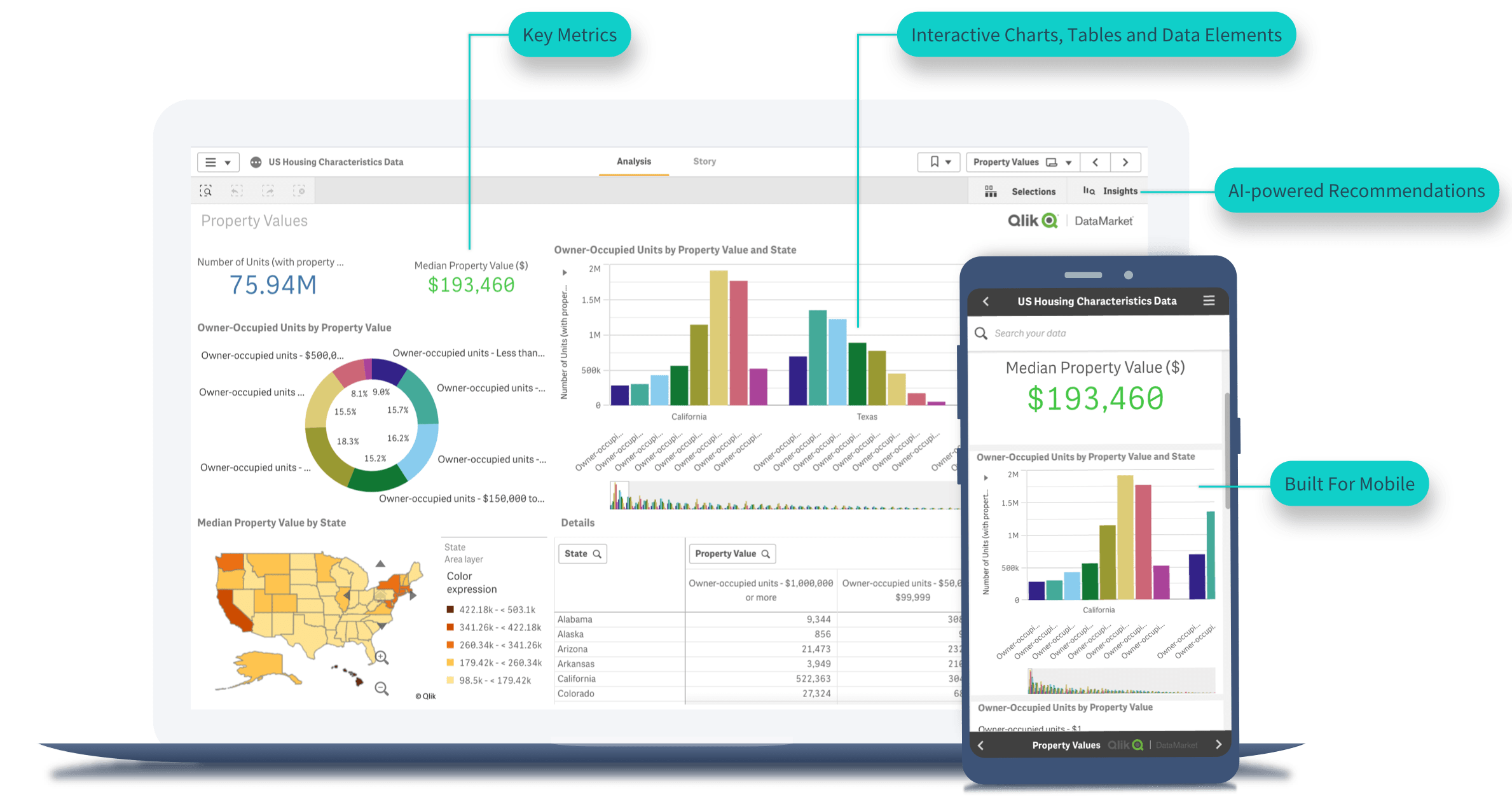 Qlik helps to easily combine, load, visualize and explore your data – no matter how large (or small). Qlik helps to create, share and distribute powerful dashboards where every element is interactive, taking users beyond the static dashboards of the past!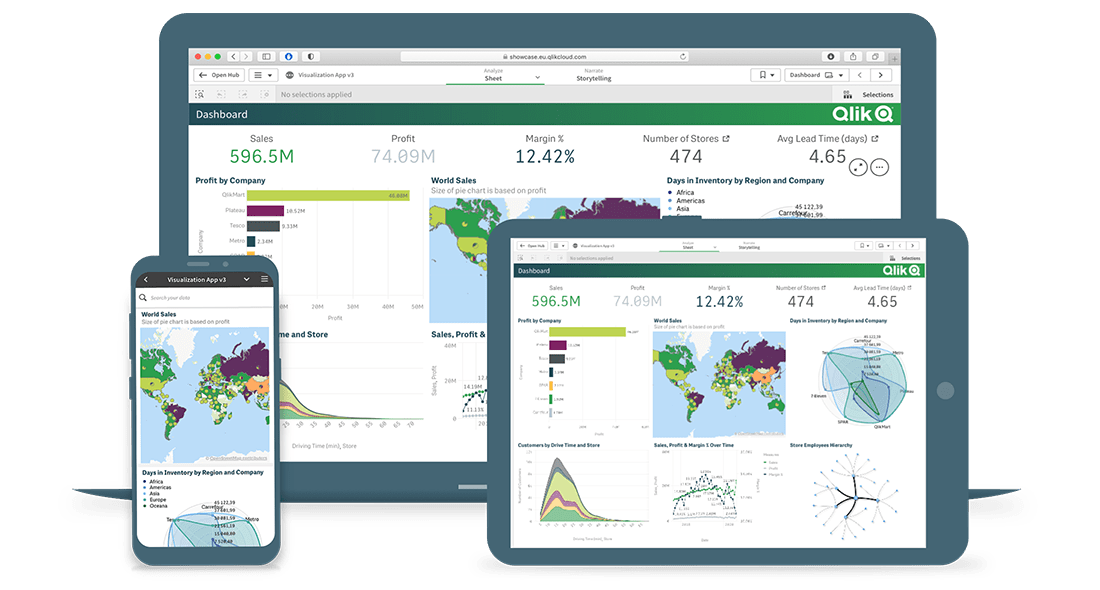 Interactive mobile analytics
Qlik Sense is built for mobility, with responsive design and touch interaction native to the platform. Qlik's web client delivers a complete set of mobile capabilities, seamlessly transitioning across devices. Qlik also offers mobile apps for iOS and Android for enhanced user experience.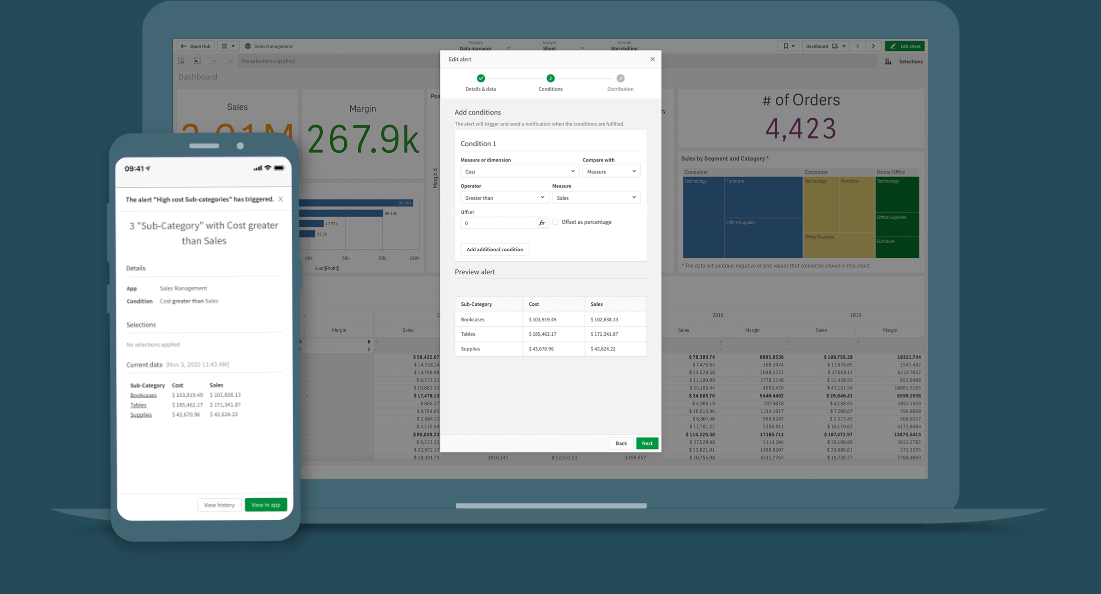 Qlik provides sophisticated, data-driven alerts that help users proactively monitor their business and take timely action based on insight. Qlik helps you to quickly build, publish and share reports in popular formats like Microsoft® Office and PDF and schedule reports for distribution via email, shared folders, or a centralized hub.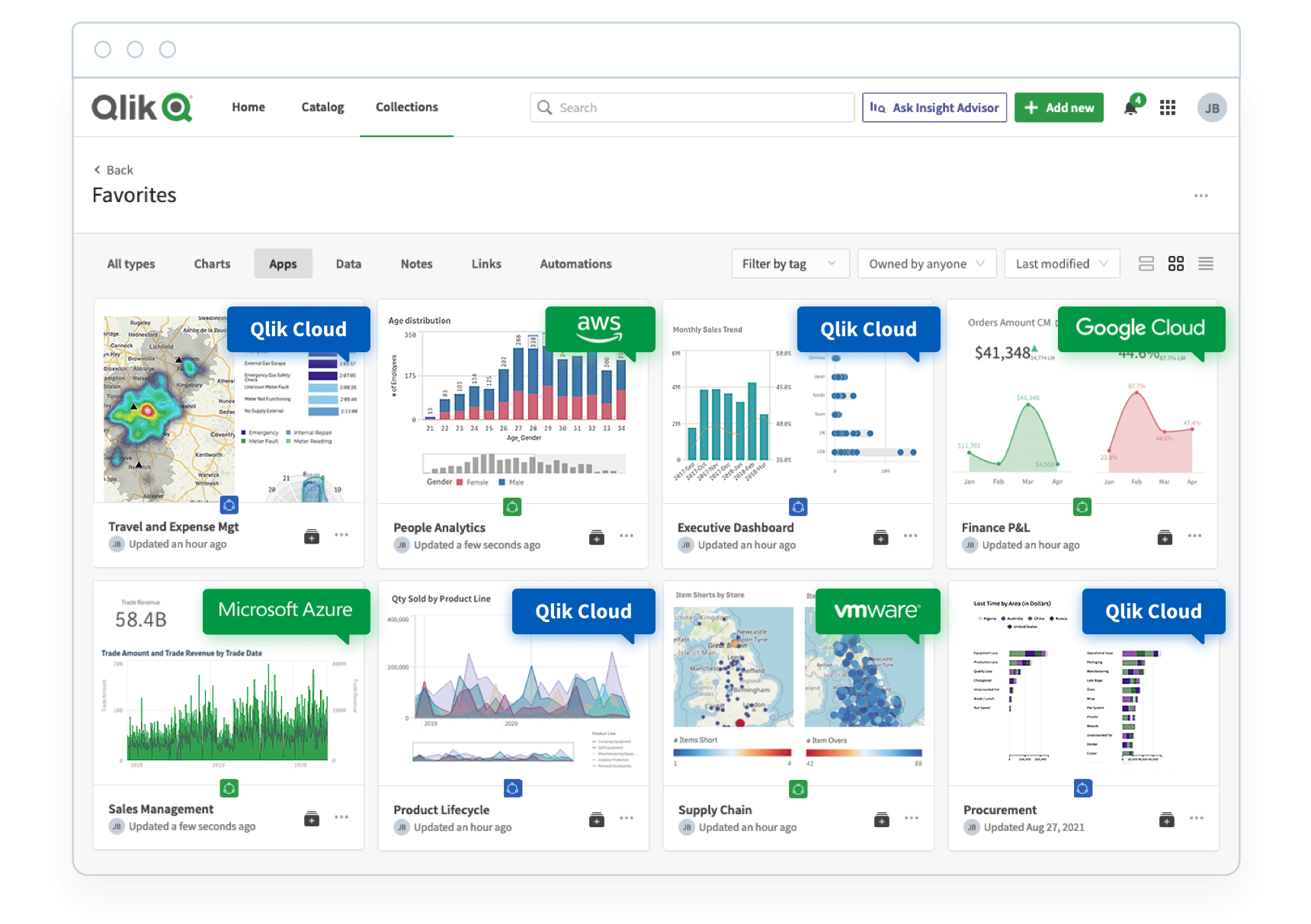 Qlik lets you easily combine SaaS, hybrid multi-cloud, and on-premise deployment options. Organizations can choose Qlik's SaaS environment, or client-managed options such as multicloud and on-premises deployment.