TRUECHART - A collaborative business intelligence software
Maximize the value from your analytics investment.
Reduce the time required to prepare reports, create and display data using IBCS® within your BI results in uniform data visualizations across the enterprise.
Collaborative Business Intelligence
Dealing with data is very complex and enterprises struggle to take full advantage of their data treasure. Enterprises need the ability to instantly discover important insights in order to make data-driven decisions. Miscommunication in data management and business intelligence can lead to significant inefficiencies and errors, which can prove costly for organizations.
TRUECHART are world market leaders in the field of IBCS® (The International Business Communication Standards) – compliant Collaborative Business Intelligence software.
TRUECHART provides the speed and scale needed to tackle petabytes of business data to make data management and complex reporting much easier, simpler and faster.
We are a strategic implementation partner for TRUECHART in Asia and offer this value-added product to our customers, helping them to maximize the value from their analytic investments.
TRUECHART Key Capabilities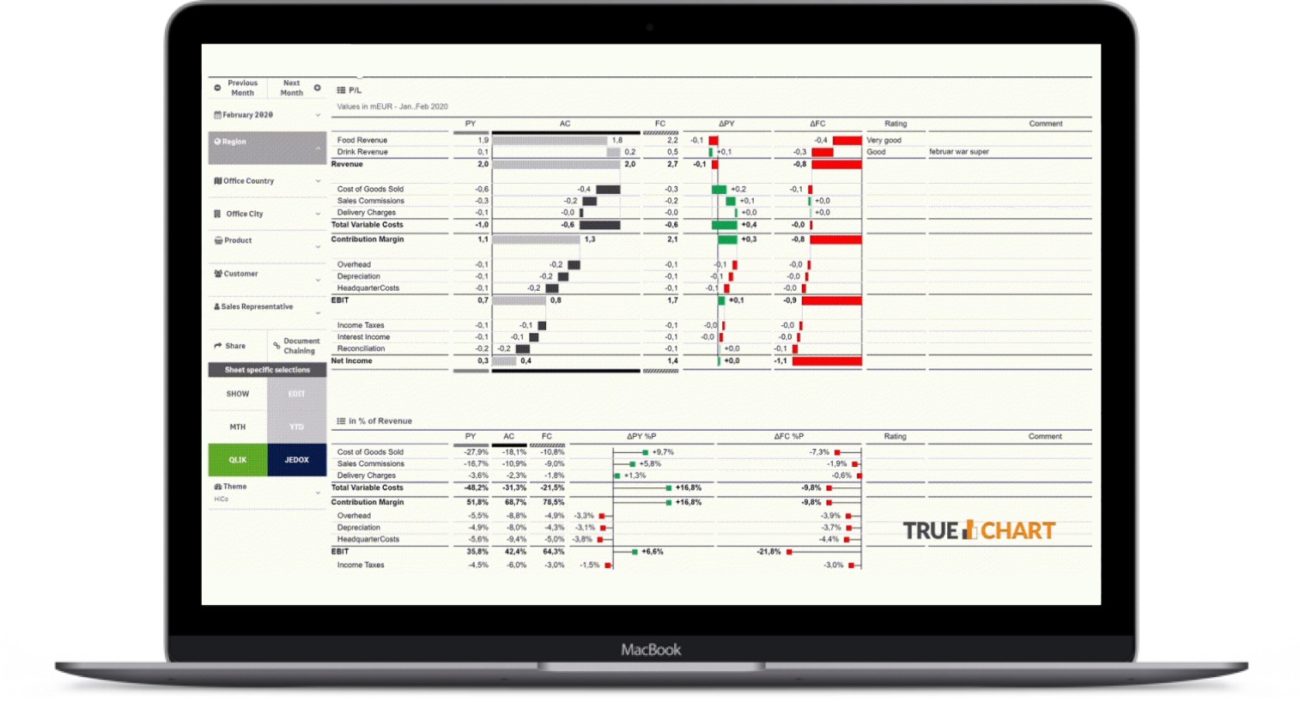 Powerful IBCS Charting Engine
TRUECHART adds an advanced financial report notation system to platforms like Qlik, PowerBI, Excel, Jedox or any system with an open API. It enables and harnesses the full benefits of the International Business Communication Standards (IBCS).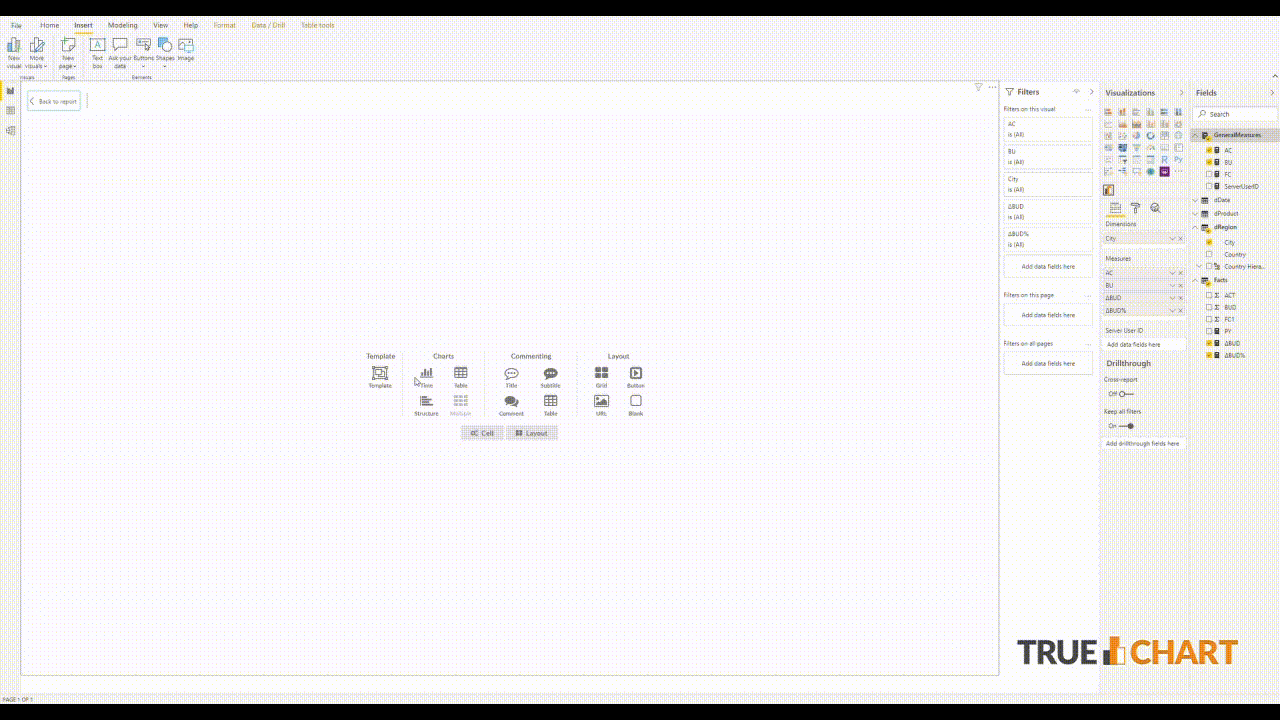 Advanced Chart Creation Wizard
TRUECHART allows report authors to quickly and easily build sophisticated IBCS-compliant charts and graphs with flexible, easy-to-use tools. Standardized reports can be created and deployed in minutes, providing information to report consumers more quickly, in an optimized layout format.
TRUECHART utilizes a responsive "design grid" approach for chart layout, so the same visualization can be used across multiple device types and screen sizes. Build once, use anywhere!
Report Annotation and Commenting System
TRUECHART adds cross-platform "smart commenting" to reporting and analytics processes, allowing stakeholders to add comments, explanations and key messages to any chart, graph, report or key figure. These annotations are centrally stored, linked to key values, and are dynamically available for display across all relevant reports, systems and platforms.
TRUECHART eliminates comment duplication by managing all annotations and linked values across all systems. For example, a figure and linked comment from you preferred planning system (e.g. Jedox) can be displayed in a "Planned vs. Actual" report in your analytics or performance tracking tools like Qlik or PowerBI, or anywhere the value is used.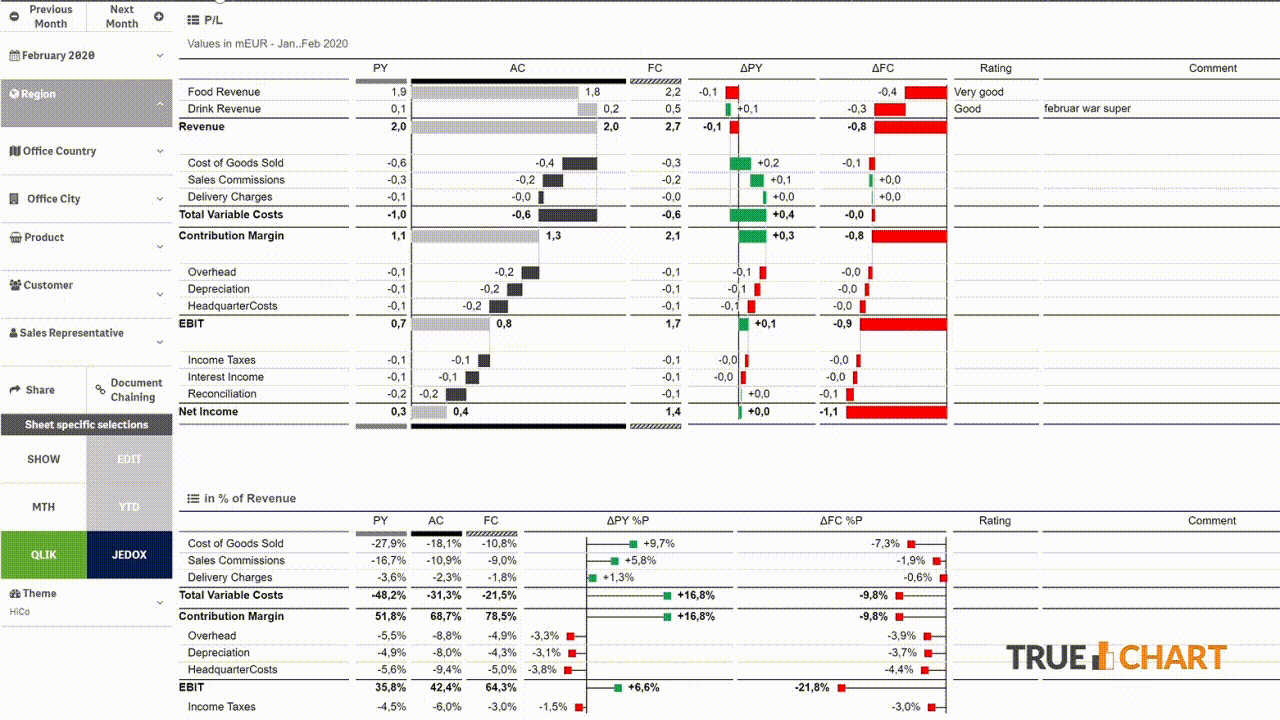 Cross-Platform Chart Library
TRUECHART integrates with your BI platforms to build reports, and then manages, reuses and displays them anywhere. Using the TRUECHART API, all content can by integrated across any system, from common BI platforms to in-house developed systems, to any application with an open API.
TRUECHART eliminates the need to rebuild content as corporate tools and platforms change, since your effort and IP is protected and rework is minimized by leveraging and easily managing your report and template library across all platforms.
TRUECHART is cost effective too, as your software investment is done with a license model that is platform-independent and not permanently tied to a single BI tool vendor- basically, one license fits all!